With few days to Imo State House of Assembly election, it is proper to congratulate the people of Obowo State Constituency for having on the ballot, a man of selfless service to the people, with tested unwavering love and commitment to Obowo agenda- the man who popularized and practically demonstrated the 'Obowo First' mantra, Rt. Hon. Barr Kennedy Chidozie Ibeh, Immediate past Speaker of IMHA and member representing Obowo State Constituency.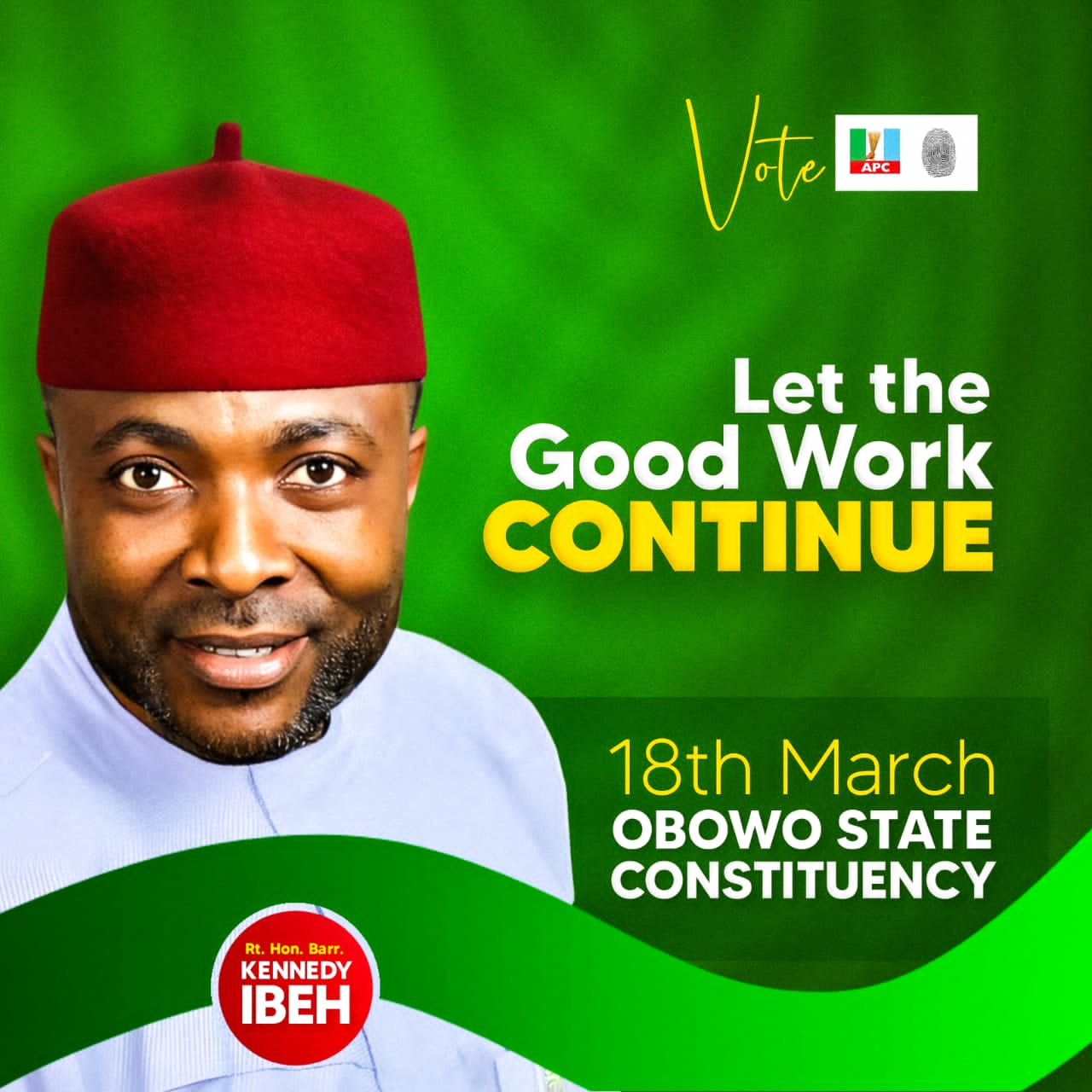 A retrospect to the circumstances that placed him on the ballot will naturally evoke deserved accolade to Obowians for prayers offered, for votes cast and for various other support rendered right from the primary election till the campaign period.
These unusual backing by the people is a vindication that Obowo is arguably most politically enlightened enclave in Imo, a people that have overcome all clannish and parochial inhibitions, but opted for the best brain, delivery ability, experience, panache and a man who in the spirit of "Obowo First" did excellently well and willing to do it again.
They saw this values in Rt. Hon Barr Kennedy Chidozie Ibeh, the progressive parliamentarian with legislative effulgence who represents the state constituency and made indelible legislative marks while he functioned as the Speaker of the 9th Assembly.
He placed his Constituency in a very high pedestal of legislative advancement, and to the glory of God, is yet again set for greater exploits within the mandate of continuity and consolidation.
It is already an overstated fact that never in the history of Obowo, was there any legislator whose consummate concern has been the development of Obowo and its people like Rt. Hon. Kennedy Ibeh.
As a parliamentarian, he lived the "Obowo First' philosophy.
Though he did his best within his limited capacity in his first four years in the House, but largely expanded the coast beyond bounds once he became a ranking member and was elected the speaker Imo State House of Assembly.
Never in the history of Obowo that a House member turned speaker appointed almost hundred bonafide Obowo sons and daughters to existing and manufactured political position in the office of Mr. Speaker.
The number of job placements he facilitated both in national and state government agencies and parastaltals, including the Nigeria Civil Defence Corps, for Obowo indigenes will for a long time remain unequaled.
It has never happened in history that 2 Development Centres, Obowo West and East, facilitated by him were created for Obowo local government when most local governments in the entire Okigwe Zone couldn't get any.
It was on record that Rt. Hon. Kennedy Ibeh, out of the abundance of love for his people single handedly built modern abattoirs, altra-modern markets, including the popular Eke Umuokeh, and a host of other infrastructural projects within his constituency.
It is only the man who bears the burden of his people that will deploy the paraphernalia of his office to consistently push and get the governor's nod for the construction of the 11 kilometre Sam Mbakwe road, the second largest Sam Mbakwe legacy project after Avutu Poultry.
In this connection special thanks must go to the governor, His Excellency, Sen Hope Uzodimma, who graciously awarded the contract to a renowned construction company- KANUBEEN.
These projects are besides the dispatch and alacrity with which he approached his main legislative functions which includes law making, appropriation and oversight.
Rt. Hon. Kennedy Ibeh is not going to the 10th Assembly to learn the rope while his colleagues ranking members garner all the legislative dividends. He knows the art and science of law making. He is ranking and experienced.
In his kitty and to the benefit of Obowoans and Imo people in general are 12 life's transforming bills, 33 sponsored motions 241 co-sponsored bills and motions.
It therefore beats imagination and defiles all logic and understanding how any bonafide son of Obowo could close his eyes to these uncommon achievements and the light of beauties shinning in Obowo land .
Those who are blinded by primitive and pecuniary motives, hence attempting to supplant reality and suggest that a first timer will do better than a tested, trusted law maker should have a rethink.
For the sake of the people, let us put politics aside and put Obowo first. Rt. Hon Barr Kennedy Chidozie Ibeh, has shown class. He has lifted many and by natural and spiritual laws a lifter of men must be lifted.
It is only proper and wise that for quality
representation, for progression of infrastructural, human capital and political development, Obowo people must return Rt. Hon Barr Kennedy Chidozie Ibeh to the 10th Assembly.
Once again, I congratulate great Obowians in advance as they finalize the process of returning the best man for the job to Imo State House of Assembly in 2023, Rt. Hon. Barr Kennedy Chidozie Ibeh.

A vote for Kennedy Ibeh is a vote for the best.