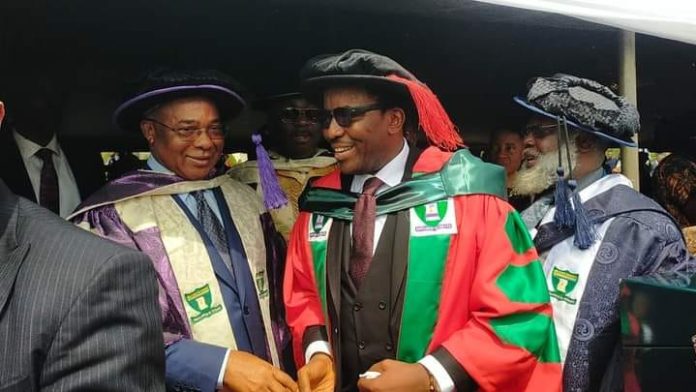 In response to a malicious and false narrative being circulated on WhatsApp, alleging a plot on the lives of two lawmakers, including myself, I have opted to, rather than just respond to the faceless and nameless author of the ill-intended piece, declare that I enjoy a very wonderful relationship with the incumbent Governor of Imo State, Distinguished Sen. Hope Uzodimma, the Chief of Staff, Barr Nnamdi Anyaehie, and the 3R Government.
First, it is important to state, clearly, that only people who don't know me or already bear ill will towards me, and the State Government will believe that fairy tale. For one thing, I am very active on social media and can speak for myself or through my known media aides, and not through some faceless people, should there be need to.
Be that as it may, Gov. Hope Uzodimma has been very good to me. For a Governor I didn't support, during his first coming, yet he not only, graciously, supported me to a 3rd term ticket of a party under his watch, the APC; he stood by me, all the way, and still does.
Aside from that, he has been a leader and big brother in any matter that concerns me.
It might suffice here to note that there is, definitely, a group of persons determined to cause disharmony between me and the Government of Imo State, in the last couple of months, as this is not the first or second hogwash being spewed by yet unidentified persons, all aimed at coming between me and the number one citizen of Imo State.
I want to assure them that their efforts have been and will remain futile, as the Lord lives. They should desist, forthwith, or dare the wrath of God almighty, to whom I have recourse.
Finally, let's join hands and support Gov. Hope Uzodimma and the 3R Administration, for a fresh four-year mandate in Douglas House, because no amount of infantile publication such as this will distract me from playing vital roles, and joining forces with other well-meaning Imo citizens to ensure that His Excellency, Distinguished Senator Hope Uzodimma retains the Douglas House, deservedly and against all odds.
To God 🙏 be the Glory.
Chike Okafor, PhD