DREAMS & VISIONS…… LWM Owerri Convention was a huge success.
Bro Emmea With a Copy of Arise Afrika Magazine
Ik Anyanwu – Publisher Arise Afrika Reporting
It was a time of great impartation and refreshing time.
Seating under my Spiritual cover, Father and mentor Bro Emma Okorie and his amiable wife Sis Chinyere Emma Okorie, Dr Jude & Mummy Esther Ehiemere, Sis Clara DonIgwe as the Apostolic team visited Owerri sharing with us on Dreams & Visions. It was indeed an  opportunity to share Visions. I had the privilege of handing over a copy of Arise Afrika Magazine to Bro Emma Okorie. President Living Word Ministries, Chancellor Rhema University  


At the just concluded LWM Owerri Regional Convention, Bro Emma extended  praise and thanks to as much that had contributed to the success of the Convention, notably the hosts -Pastors Ben Akalonu, Pst Chinedu Uzoma, Kinsley Nnadozie – and the Worship Pastor of Living Word Ministries, Pastor Nemi Iselema. He also lauded the Organizing Committee and its Chairman for their efforts.
\"This is your time, this is your hour to serve God.
Dreams comes when one sleeps. Vision comes whether you are asleep or awake.\"
Emma Okorie roared and awaken the lion in me.
We are carriers… Something real big is loading after this Convention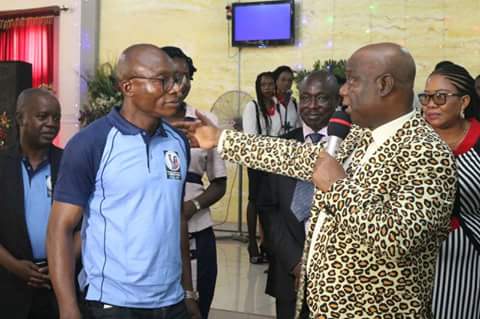 Bro Emma & Victor Onwumere Chairman Convention Planing Committee
We are carriers… Something real big is loading after this Convention.
 We are set to Storm Africa with Talents
www.ariseafrika.com a leadership blog, news website an offshoot of
Global Circle of Friends Network made up of a team of creative minds who are passionate about raising the beautiful continent of Africa, one information at a time is set out on a mission.
Our vision: Redefining Africa to the world.
Face of Arise Afrika Pageant Awards 2017

Bro Emma with Pastors Ben Akalonu, Pastor Uzoma Chinedu
BAR CHIOMA: Chairperson Sweetheart Banquet Committee & FRIEND
We shall be discovering, developing and nurturing talents through this initiative. Its going to be yet another season to celebrate people, places and values.
The Arise AFrika Media Team congratulates Living Word Ministries for a successful Convention and Unique Women Sweetheart Banquet.