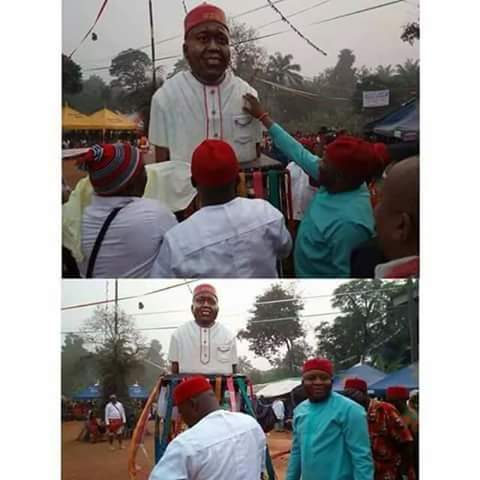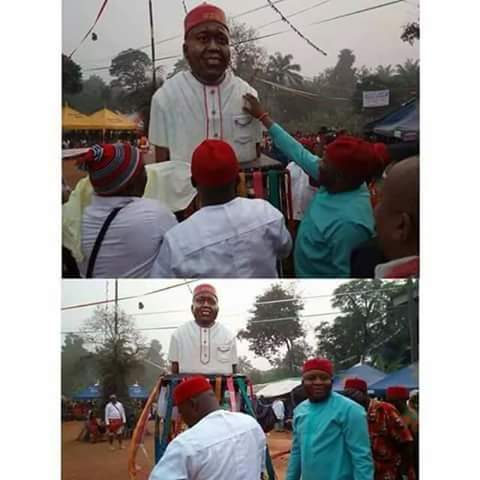 Social media is  Agog with Deputy Speaker of Imo State House of Assembly, Rt. Hon. Ugonna Ozurigbo.
His face was used as add-on for a masqurade and some michevious persons carried fake news that he had erected a statue for himself.
Akpuola gi? Is the trend in Imo State. Which means different thing to different people.
It is like the elephant that blind men touched and each was called upon to explain what they have touched and each had a different tale.
Philip Dike had this to say: \"Now the joke is on, is Rt Hon Ozurigbo Ugonna not worthy of being kpuolad?\"
In response, Mr Ikechukwu Anyanwu of Arise Afrika said:
\"He is to be Immortalized for his good works. Enyioha Gburugburu has affected lives of people positively and he deserves to be kpuolad.\"
Francis Udoka Ndimkoha took time by analyzing the whole saga
\"Take a good look at first picture in this update and clear your doubts. The bust image is but the face of a masquerade!
The honour was done to him by the good people of Amucha, in Njaba LGA, not even his native Nwangele LGA.
That said; to argue that Rt. Hon. Ugonna Ozurigbo is doing well as a legislator is a hackneyed fact.
Let me repeat, for emphasis, that there was no statue anywhere, but just an add-on, to the face of a legendary masquerade.
What is your stake in the whole saga. Drop your comments .
ETWe would like to know your view