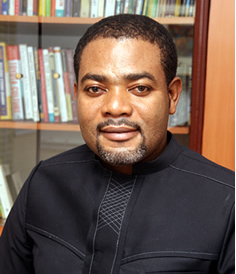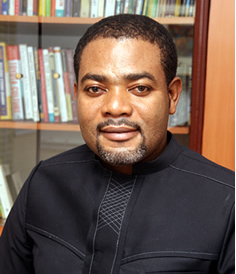 Ugochukwu Omeogu is a Workplace Attitude Expert and a Personal Development and Career Coach. He is also the Principal Consultant and the Prime Facilitator of Joseph Consulting & Mentoring Limited; a Career, Management and Business Development Company. He also runs private Executive Mentoring and Coaching Programs for top corporate executives. He is the founder of the Mentoring Ville, a state-of-the-art mentoring facility in Lagos, Nigeria.
Ugochukwu Omeogu's mentoring and coaching experience and askills were developed in JP Morgan Chase bank in the United States of America where he was the lead facilitator in the Performance Management Reviwe Team(PMR). He was trained in Customer Service, Leadership and Organizational Strategy in JP Morgan Chase Bank in the United States. He also worked in Access Bank of Nig Plc, where he established the Regional Private Banking Unit in Port Harcourt and facilitated the culture integration trainings. He designed the Train-the-Trainer mentoring program adopted by Lagos State Government for the Secondary Teachers and Students in Lagos State.
He was the Regional group leader with World Lending Group in Dallas Texas in the United States where he functioned as the lead Loan Originator while mentoring junior officers to higher performance and also a Senior Customer Relationship Manager.
Ugochukwu Omeogu holds a bachelors degree in accounting and he is a certified tax specialist in the United States of America. He has over 10years of practice and experience in facilitating Management and business trainings in Customer Service, Sales and Marketing Techniques, Deposit Mobilization, Leadership, Change Management and Customer Relationship Management. His holistic Value Chain Management exposure and Marketing Communication Practice strengthens his balanced and objective view as regards marketing communication efficiencies and deliverables.
He has facilitated and trained for JP Morgan Chase USA, Zenith Bank Plc, Ecobank plc, Skye Bank plc, Fidelity Bank Plc, Access Bank plc, IEI, Staco Insurance, Century Energy Services Limited (an oil & gas company), Itex Integrated Software and Systems ltd, Angel Foundation USA, US Embassy, Neimeth pharmaceuticals plc, TF Financial services Ghana amongst others who he helps in developing their change management and leadership training and also in the development of their sales and marketing strategy and trainings.
Ugochukwu is deep, passionate, and articulate, a continuous learner and a great listener.