Today, His Excellency Dist Sen Hope Uzodimma Signs the revised 2020 Budget.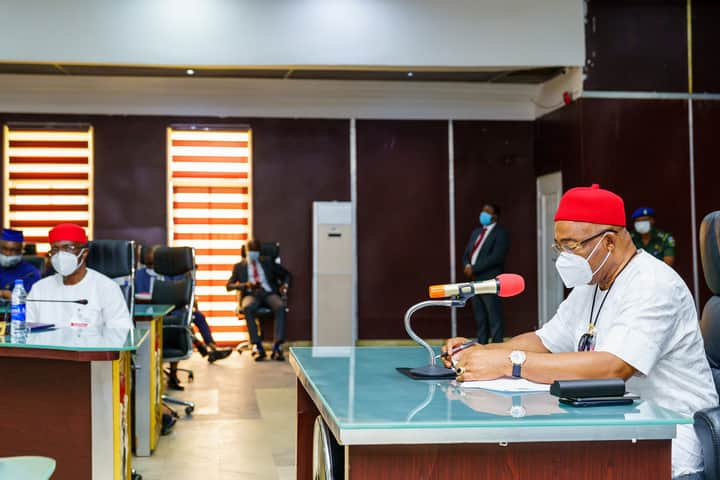 REMARKS BY GOVERNOR HOPE UZODIMMA AT THE SIGNING CEREMONY OF THE REVISED 2020 BUDGET AT GOVERNMENT HOUSE OWERRI ON WEDNESDAY JULY 29, 2020
PROTOCOLS
The singing into law of the revised 2020 budget of Rehabilitation, Reconstruction and Recovery heralds a fresh page, with great promise, in the fiscal history of our great state, Imo. It signals our first conscious steps, as a government, to begin the implementation of our shared prosperity agenda through a well thought out fiscal roadmap that guarantees economic liberation for our people. It is indeed a new dawn, a new day and a great new beginning. All of us, as members of team shared prosperity, should indeed be proud of this glorious new day, even as it comes with its responsibilities and challenges.
We should be proud because we have a team that is working, a team that is alive to its responsibilities to our people which reflects in the admirable synergy between all the arms of government, particularly the Executive and the Legislature.
I can never thank Mr. Speaker and the Honourable members of the House of Assembly enough for their ever ready prompt, diligent application to duty. Your painstaking sacrifice in ensuring that the 2020 revised budget is passed into law, has not gone unnoticed. Imo people are proud of your commitment to duty.
This 2020 budget was revised downwards mainly for two reasons:
1. The downward oil prices that has made the original budget unsustainable.
2. The revision of the National MTEF arising from the above, and Nigeria's agreement with the World Bank to help fund these shortfalls arising from the impact of the COVID-19 pandemic through its SFTAS, (States Fiscal Transparency Accountability for Sustainability) programme.
This programme avails states certain grants, Upto $20 million per state, if they meet specified conditions, which includes but not limited to, preparing a credible COVID19 responsive budget by a revision downwards. Such budget or fiscal policy is logically expected to take into special consideration COVID-19 related emergency procurements in the health, education, Agriculture, unemployed youths, vulnerable groups areas, etc, while postponing the non-emergency procurements in capital expenditure.
Consequently, part of the SFTAS requirements for this revised budget\' is that COVID-19 related expenses must be at least 10% of the total budget. All these and more, the revised 2020 budget has captured.
In this respect the 2020
 Revised Budget clearly outlines government's political, economic and social development programmes, policies and strategies aimed at putting the well- being of our citizenry at the centre of governance.
 This will be achieved through massive reconstruction of our dilapidated infrastructure, improving the ease of doing business, ensuring sustainable economic development, as well as encapsulating our vision of a New Imo State which is predicated on freedom, security and shared prosperity welded into good governance.
Our Administration's resolve to ensure prudent and judicious use of state resources, remain unassailable.
Let me then present a summary of the 2020 revised budget in contrast to the approved budget.
A.  RECURRENT EXPENDITURE
Recurrent expenditure in the approved budget stood at N91, 509,058,587 while the revised recurrent expenditure in the revised budget is N63, 419,736,259. This represents a 30.7% reduction in the recurrent expenditure.
A provision of N8, 980,000,000 is earmarked for Covid 19 interventions in the 2020 revised recurrent expenditure.
B.  CAPITAL EXPENDITURE:
The Approved 2020 capital expenditure was N106, 283,584,680 while the 2020 revised capital expenditure Budget is reviewed down wards to N44, 966,099,871.  Also as a result of the Covid 19 pandemic, a provision of N6, 379,828,253 is made for its mitigation in the 2020 revised capital expenditure.
C.  SECTORAL CAPITAL EXPENDITURE:
1. ECONOMIC SECTOR:
The 2020 Approved Capital Expenditure for Economic Sector stood at N63, 576,043,808 while the Revised Capital Budget on the same sector is N20, 555,468,871 representing 67.7% reduction. Also a provision of N2, 186,094,528 is made for Covid 19 interventions in the Economic Sector of the revised Budget.
D.  SOCIAL SERVICES SECTOR:
The 2020 approved capital expenditure for Social Services Sector was N21, 139,598,734 but now reviewed down wards to N7, 190,211,793 representing 66% decrease. Equally provision of N3, 043,134,650 is made for Covid- 19 interventions in the Social services Sector.
E.  GENERAL ADMINISTRATION SECTOR:
The Approved 2020 Capital Expenditure for General Admin Sector was N17, 421,907,270 but it has also been reviewed down wards to N12, 971,619,207 representing 25.5% of the Capital Budget size on General Admin Sector. A provision of N1, 150,599,075 is made available for Covid- 19 pandemic in the General Admin Sector of the Budget.
F.   GOVERNMENT TRANSFERS:
The sum of N4,146,034,868 was approved for Government Transfers in 2020 Approved Capital Budget but has been reviewed upwards to N4,248,800,000 representing 2.5%  increase in the total provision of Government Transfers.
G.   Summarily the revised 2020 Capital expenditure is N44, 966,099,871 which represent 41% of the Revised Budget size.
On the whole, after a careful review of the 2020 approved budget and taking into consideration the fall in oil prices and its negative effect on the National economy, coupled with the Corona virus (COVID 19) pandemic which necessitated the downward review of the 2020 approved budget, the total  2020 revised budget now stands at N108, 385,836,130.
I am proud to note that our government has not left any stone unturned in containing the prevalence of corona virus (COVID 19) pandemic. We have taken all necessary measures to curtail its spread in Imo State in line with NCDC and WHO guidelines.
Equally note worthy is the laudable feat we achieved by producing the first ever Imo State Citizens budget in line with International best practices. The budget is published in both English and Igbo languages for ease of reference for our people.
We have also commissioned online publication of the citizen's budget and 1st quarter 2020 report on Budget performance.  This is in line with my promise to run a transparent people- oriented Government. Moreover by this, the State is now qualified to receive the sum of $300,000 (USD) and $1m (USD) respectively from the World Bank, as an encouragement for running an open, transparent government.
I should add that as part of efforts to mitigate the caustic effects of Covid 19 on our people, my government has granted a number of tax reliefs. These include waivers on personal income tax, consumption tax, PAYE for private schools and levies for tricycle and motorcycle operators.
You will agree with me that from the provisions of the revised 2020 budget, our three R agenda anchored on shared prosperity is on course. I have no doubt that the budget will greatly alleviate the hardships of our people.
To ensure this we will insist on prudent management of resources and diligent adherence to budgetary provisions.
Part of the new normal we must come to grips with is fiscal discipline which must reflect in transparent management of public funds. Let me therefore use this opportunity to remind all political appointees in this administration that corruption is a mortal sin which attracts maximum sanctions. As the arrow heads who will manage the revised 2020 budget in your Ministries, Developments and Agencies (MDAs) you must be the true apostles of our shared prosperity programme by resisting corruption with every blood in your veins. We cannot afford to fail Imo people.
Thank you all and Godbless.
Sen. Hope Uzodimma
Governor