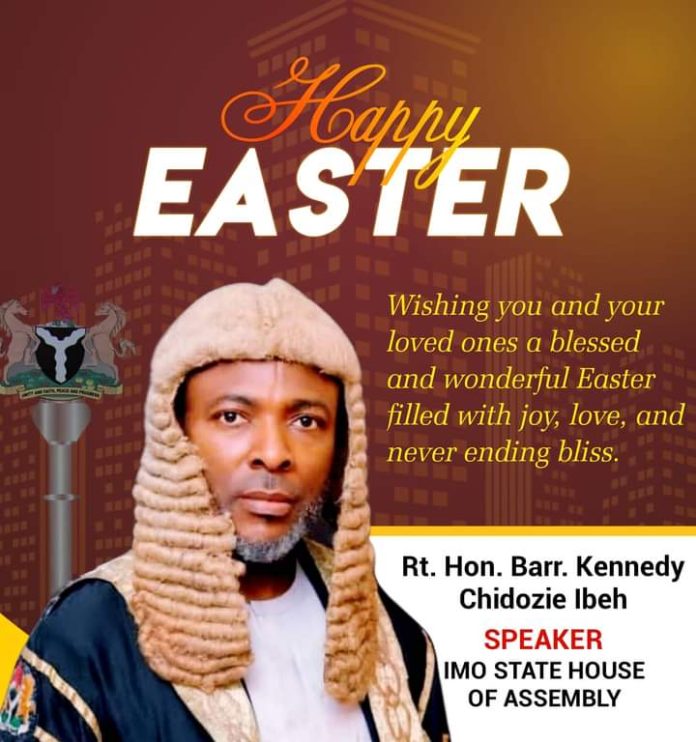 The Speaker, Imo State House of Assembly, Rt. Hon. Barr. Kennedy Chidozie Ibeh, has sent his warmth Easter felicitations to His Excellency, Distinguished. Sen. Hope Uzodinma and his family, the Deputy Governor, members of the expanded executive and the Acting Chief Judge of Imo State.
The Speaker also felicitated with the Honourable members, the Clerk of IMHA, the parliamentary staff and indeed the good people of Obowo State Constituency.
The Speaker who made Easter wishes on Thursday, at the Plenary, said that the whole essence of Easter celebration, which started with the lenten season, is captured in the book of Galatian 2:21.
He poured encomium on his colleagues, Clerk of IMHA and staff of the Assembly, who he said were instrumental to the success he has recorded so far as Speaker.
He assured the people of his Immediate Constituency (Obowo), and all Imolites of continued effective representation and quality leadership.
The Speaker noted that Easter in the whole of Christendom is considered as the most important event because it represents Christ triumphant defeat over death and the hope of our resurrection through the resurrection of our Lord Jesus Christ. It is a fulfilment of the revelation of God's salvic plan for all mankind..
To the youths, the number 3 citizen of the state enumerated the need to celebrate the event focused on the inherent lessons and the significance of the season.
He said, " as christians, the spirit of Easter demands that we shun all the vices for which our Lord Jesus Christ went through passion, was crucified, dead and resurrected".
He enjoined then to saddle themselves with virtues and lofty activities that builds rather than destroys, that encourages love rather than hate.
The Rt. Hon. Speaker explained that Easter celebration offers, another opportunity for the youths to look inward and seek for ways to enhance the quality of their lives and avoid all forms of inducement to kill, cause mayhem or engage in any form of crime and criminality.
He called on all to give maximum support to the administration of the Governor, His Excellency, Sen. Hope Uzodinma, who is working hard to make Imo enviable among the comity of states.