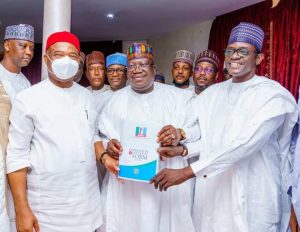 Every well meaning Igbo man and woman, even children, are calling for and clamoring for a Nigerian President of Southeast extraction come 2023. This is long overdue as the Southeast has continually supported other zones in the country with the same compensatory promise of handing over to an Igbo man yet all becomes rhetorics at the end.
The agitation for a President of Southeast extraction became prominent due to the unity of all Igbos towards the goal and was made manifest by the influx of Igbo politicians expressing their interest to contest and a good number of them went ahead to purchase their various party's Presidential forms. I can tell you that the Igbos have not been more united in a project than this. Either we get it from APC or PDP but the goal is for an Igbo man to occupy Aso rock as Nigeria's President.
While it has become obvious and dawned on the Southeast that the hope of getting a Southeast President from the PDP may have become a pipe dream and a wishful thinking, APC had moved to zone the Presidential ticket to the South, but the reality is that our brothers from the Southwest and South South are ready to betray us again and I ask why??
Must Tinubu, Osinbajo, Fayemi, Jonathan, Amaechi, Slyvia, Akpabio and their lots contest for Presidency? What happened to equity and equality? Did they forget that the Southwest has had their fair share with Olusegun Obasanjo as President for 8years and Vice President Yemi Osinbajo for close to 8years? Goodluck Jonathan had been Vice President and President for 8years? Or are they now suffer from selective amnesia? Of course, No!, they want to keep us politically irrelevant in Nigeria.
We celebrated the Presidency of the Southwest extraction despite the marginalization of Ndi Igbo and even adopted the Presidency of the South South as our own even when it was obvious that the Northerners were kicking against it and now why can't these our brothers rally round us and support our agitation? Why must they betray us now? Must they cut short our dreams? Indeed the enemy within is the worst enemy one can have in life and far be it from us as Igbo Nation that these two zones will push us into political extinction and instead of watching them succeed in their evil ambition, we should show them that we are politically wiser now!
The Igbos will always say, "kama ehi gi ga agbanaha gi, gi egbu-biri ya n'odu" which means instead of losing your cow completely while chasing after it you try cutting off and holding onto the tail. This has become the political philosophy of Ndi Igbo now since it has become clear that the Southwest and South South have turned us into political orphans.
You will agree with me that it seems no political party will give an Igboman their party ticket because the south south and southwest we helped in 1999 and 2011 suddenly forgot our role. I can't believe that any right thinking Igbo man will agree to support a southwest or South-south man (even as the last option) who will go ahead to pick an Hausa man as running mate, leaving Igbos out of the scheme of things again.
While other Igbo politicians are adding up one and one, Gov. Hope Uzodimma the game changer and master planner of Ndi Igbo, a man whose audacity is unequalled, has taken the battle to the war front and since he understands better that politics is all about alignment has started doing the needful for Southeast to remain viable and politically relevant beyond 2023.
If Gov. Hope Uzodimma taking the Southeast to align with the Presidential interest of the Northeast will give Southeast a quicker shot at the Presidency in Nigeria then we should move without further delay. Southeast and Northeast share the same political fate since 1999 and it is politically correct for these two marginalized zones to work hand in gloves to actualize a common goal that will be beneficial to both zones now and in the future.
Watch closely, Gov. Hope Uzodimma since he assumed office as the Governor, has never made any political mistake. From uniting Ndi Igbo, reclaiming Ebonyi for APC and to pushing the frontiers of Southeast to the Presidency, has ended up galvanising the zone towards political relevance and being the beautiful bride of the nation. Make no mistake about this, the goal is to stop the Southwest and South South as well as anybody working towards relegating Southeast politically now and in the years to come.
Under his leadership, all Nigerian political block has visited southeast several times in the space of 2years more than ever. A sign that he is seriously working towards aligning the southeast to the centre.
Just as what transpired in the bible in the book of 1 kings 12:16, Southeast has been given the injunction and now we look towards our own political way of making sure we win this war against selfishness, marginalisation, political wickedness and ingratitude by Southwest and South South and we can only win this war by staying united and trusting in the political capacity of Gov. Hope Uzodimma in turning the tides around for our own good.
Like I said earlier, any decision Governor Hope Uzodimma is making today, politically, is and will always be in the best interest of Ndi Igbo. Let's rally round and give him maximum support.
Dr Ezeafurukwe Paul Ihunanya
DG Hope New Media Center