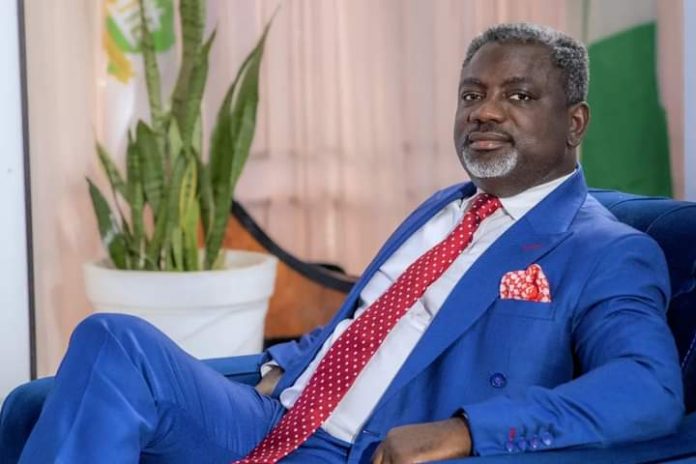 The world celebrates Linus Okorie , President GOTNI and Former Imo YPP Governorship Candidate on the occasion of his Birthday.
Speaking on his social media handle, the Publisher of Arise Africa Magazine , Mr Ikechukwu Anyanwu described Linus Okorie as Inspirational leader wishing him a happy birthday.
He wrote about the foremost leadership development expert.
See below:
LINUS OKORIE : A MAN OF INSPIRATION
I consider myself very privileged to talk about an inspirational leader on his Birthday.
Linus Okories is a world-class leadership Coach. Linus Okorie and I meet during my days as an undergraduate at Imo State University. Her as ever smiling and always well dressed in suit.
Linus Okorie was passionately speaking and inspiring students at the popular IMSU Love Garden. He was passionately speaking to us on LEADERSHIP and Guardians of The Nations International (Gotni).
I have known and interacted very closely with this great Leadership Icon since then both in official and unofficial spheres. During my tenure as the pioneer Pastor Living Word Campus Church and a principal officer of JCCF Imsu, we (Christian Community) worked closely together to ensure he emerged the First Elected President Student Union Government Imo State University. With him presiding over the first Executive, he swiftly developed and built the IMSU GATE , secured a very good rebate for students in all the eateries on campus,ensured peace on campus, IMSU was a safe haven, availability of student shuttle buses which was also affordable to mention but a few.
Linus Okorie has continued to devote his time to impacting the lives of young people, building institutions and raising leaders across the globe.
Linus Okorie is a father , pace setter, nation builder and leadership Icon.
I have gladly watched my friends life continue to blossom ever since then.
My interaction with him showed he has the reputation for leading strategic development and innovations.
So permit me to once again sound the drum for Dr Linus Okorie from my interaction with him more than two decades.
The fact is that, for a man whose greatness has been ordained by God, there can never be any break in transmission, more so, when that particular individual recognizes and appreciates that he has a Partner in progress – GOD, a force that is unsurpassed in wisdom and knowledge. This recognition impacts in that individual the driving force to engage and excel in all his life endeavours. He treads and survives easily where an ordinary mortal would need a whole lot of encouragement to dare. His life remains eventful and exciting. One cannot ordinarily come in contact with him without being positively challenged and motivated. He remain a wonderfully packaged art of God. He is fearfully and wonderfully made.
The above description happens to be the portion of Linus Okorie. His penchant for excellence, dedication and discipline can never be overemphasized . He always had this burning zeal to acquire recognition beyond his locality.
We have continuously maintained close friendship and I was among the first set of people he confided in before he declared to run for Imo State Governorship Election.
I stood by him from Sincerity 1999 to Prosperity 2019, he ran a robust campaign under the platform of the Young Progressive Party (YPP) and Imo Nkeanyi Movement
Dr Linus Okorie has become not just a friend brother, mentor but also a source of inspiration to me and everyone who knows him. He has sown a seed of unquenchable desire for excellence in me.
As you celebrate your birthday today, I thank God for His mercies upon you and wish you many more fruitful life as you continue to serve God and Humanity.
Happy Birthday Your Excellency, Wishing you may more wonderful years filled with Love, Peace, Good Health and Goodness of God. May the lines continue to fall for you in pleasant places. Age with Grace Sir.
Ikechukwu Anyanwu
Publisher Arise Africa Magazine