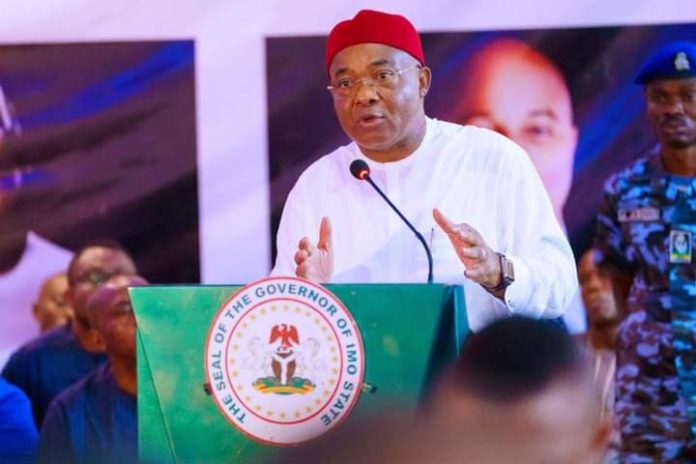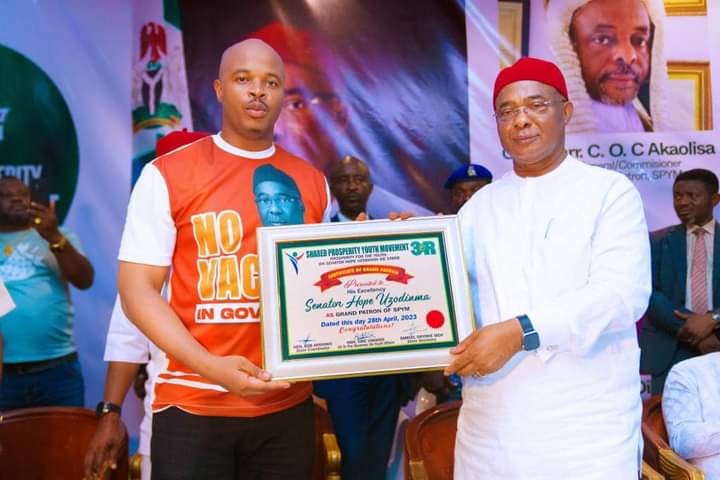 The Governor of Imo State, Distinguished Senator Hope Uzodimma (Onwa Oyoko) received massive endorsement at the Shared Prosperity Youth Movement(SPYM) Inauguration Ceremony which held at the prestigious Rockview Hotel, Owerri, Imo State.
The event which attracted thousands of youths drawn from the 27 LGAs of Imo State was graced by the Governor, Dist Sen Hope Uzodimma, the Deputy Governor, Prof Placid Njoku, the Speaker of Imo State House of Assembly, Rt Hon Emeka Nduka, the Secretary to the Government of Imo State, Chief Cosmas Iwu, the Chief of Staff to the Governor, Barr Nnamdi Anyaehie, the Attorney General and Commissioner for Justice, Barr C.O.C Akaolisa, the Commissioner for Youths and Sports, the Special Adviser to the Governor on Youth Affairs, Hon Eric Uwakwe, etc.
In his welcome address, the SA (Youth Affairs), Hon Eric Uwakwe told the Governor that the youths of Imo decided to come together and drum support for his government under the platform because of his numerous achievements since he assumed office and thanked him for believing in the capacity of Imo Youths in this political dispensation. He equally thanked the governor for his numerous youth empowerment programs and urged him to continue to with his good works which motivated the youths to come together in his honour. He assured the Governor that Imo Youths under the aegis of SPYM are solidly behind him for second term as they are hundred percent ready to deliver him in all Polling Units.
Performing the inauguration, the Governor, Senator Hope Uzodimma praised the SA (Youths Affairs) and the Commissioner for Youths and Sports for galvanizing the youths for a better future in his Shared Prosperity Government. He highlighted the various ways he has empowered the youths in ICT, Agriculture and promised to continue to put youths first in all his programs because of the strategic place they occupy in the Nigerian population age bracket. He appreciated the potentials in every youth population and urged them to harness them by shunning all forms of social vices. The Governor advised the youths to remain focused on their dreams in order to embrace a prosperous future which his government represents. The Governor also urged the youths to penetrate the grassroots by forming the SPYM structure in all Polling Units and promised not to take their solidarity for granted. He concluded his speech by declaring all existing Structures of SPYM in the State inaugurated. This declaration was greeted with a resounding ovation.
There were goodwill messages from the zonal coordinators of SPYM. High point of the event was the unanimous endorsement of Governor Hope Uzodimma's second term bid through a motion that was moved by Comrade Humphrey Osuji and seconded by the Orlu zonal coordinator which was later put to voice vote by the Speaker of Imo State House of Assembly, Rt Hon Emeka Nduka.
There were presentations of papers as well as side attractions like comedies, brain teasing, sharing of airtime among others.
There were displays of various placards and banners by all LGAs as signs of their total support for Gov Uzodimma's second term bid who the youths are massively supporting due to his sterling performance and youth friendly policies