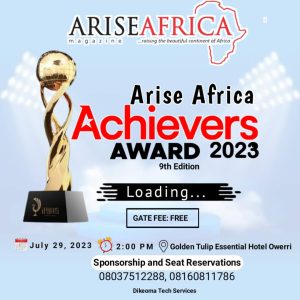 High Chief Dr Summers VC Nwoike was born into the humble family of Late Mr. Enyeribe Nwokie and Mrs Scholar Adaku Nwokie of Umuokerie Umualaukwu, Umuochaku Ezeagbogu Ancient Kingdom, Ezinihitte Mbaise LGA Imo State.
His accademic pursuit kick-started from Community Primary School, Ezeagbogu where he excellently got his First School Leaving Certificate (FSLC). Thereafter, he proceeded to Ezeagbogu Secondary School as a bright student sat for the West African School Certificate where he distinguished himself and came out in flying colours.
This great Industrialist of uncommon civility, humble, humane by all standards had his apprenticeship in local shoe production outfit in Aba, later got his due settlement from his master and as a progressive young chap, began his own shoe production and trading outfit.
In his dire yearning for survival, he sojourned abroad in the year 2005 and as a highly intelligent and versatile young man who has an insatiable quest for knowledge, he enrolled into the Eastern University, based in the Philippines and subsequently graduated with a Bachelors Degree in Management.
He went further to study at the prestigious University of Sedona, Arizona USA where he was awarded a Doctorate degree in Philosophy, Metaphysics and Theocentric Psychology.
As a very successful Industrialist known for his premium in professional excellence, with innate capacity for work and vitality to organize and coordinate, he has, over the years, built a conglomerate of successful business organizations; Eastern Clothing Company with factories in the Philippines, Cambodia, Thailand, Laos, Vietnam and Bangladesh. The outfit specializes in fabric (Jeans) production.
Nwokiemed & Pharmaceuticals, based in Philippines, Bangladesh and Laos
Bothered by the low quality movies being churned out by Bollywood and a burning desire for the betterment of the Nigerian movie industry, he established NWOKIE MEDIA Nig Ltd. He is also the Chairman/Ceo JUPITER MONEY, New York USA
Poised with the vision for total emancipation and liberation of his people, enhancement and empowerment of mankind, community development, prisons as well as girl Child advocacy, Women/youth Empowerment including development of youths through sports inline with the United Nations Agenda, he founded IKUKUOMA SPORTS FOUNDATION which it's cardinal mission is to NURTURE DESTINIES to GREATNESS.
Dr Summers is a sports lover with keen interest in grassroots sports, his philanthropic gestures speaks volumes. A pathfinder of innovational cum developmental ideas, an Achiever per excellence, a superior leader and politician and a great psychologist.
This great man of our time and an enigma of hope for the hopeless, has been christened by his people as 'Ihe Mbaise' (The Light of Mbaise People)
In recognition of his numerous contributions in the area of human capital building and community development, he has been conferred with several Chieftaincy titles such as ; Aka Ji Ikuku 1, Agbara Ka Ibeya 1, Aka Ekpuchi Onwa 1, Onapuru Dike Ihe Okpu n'Onu 1 etc
He has been crowned and recognized as Grand Patron and Patron of several organizations such as Olu Owerri Socio Cultural Organization, Igbo National Stakehoy, Umu Mbaise Home and Abroad just to mention but a few. A recipients of several Philanthropic awards from notable organizations.
Congratulations to you from all of us at Arise Africa Magazine
________________________________________
Arise Africa Achievers Awards 2023 is scheduled for July 29 at Golden Tulip Essential Hotel, Okigwe Rd Owerri Imo State
#AriseAfricaMagazine #Arise #Africa #Awards #FaceofAriseAfrica #FAA #InspireAfrica #AriseAfricaNetwork
#RedefiningAfricaToTheWorld