Okwulora Ndi Igbo receives Humanitarian Service award from the Publisher of Arise Africa Newspaper, Mr Anyanwu Ikechukwu at the prestigious Arise Africa Achievers Award 2023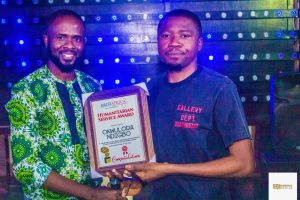 Arise Africa Achievers Award is an annual accolade event geared towards celebrating excellence in Africa. Recognizing those who contribute significantly to community development
Okwulora Ndi Igbo, whose real name is Emmanuel Onyeka Okoh, is a prominent broadcaster, OAP, rhetorician, activist, public speaker, analysts and historian. He is the founder of the Good Man Youth Network and hails from Nkanu in Enugu State, Nigeria.
Born on December 25th, 1989, Okwulora has become a beloved personality in the eastern part of Nigeria and among Igbo communities worldwide.
Okwulora, which means"One who speaks on behalf of a community" has used his platform to speak out for the oppressed, sick, helpless, needy and humanity in general. His charity towards those in need have garnered him a large following and immense love
Aside from helping those in need, Okwulora has also aided retired Igbo musicians such as Okey Jakota, Brother Okwey, Uche Ifeacho Akunne and many more. His efforts have provided them with financial support they require to make a living after their youthful age .
Okwulora was awarded "Humanitarian Service Award" in recognition of his selfless services and humanitarian works by Arise Africa Magazine
Congratulations from all of us at Arise Africa Newspaper