ROYAL BILLION HOTELS & SERVICE APARTMENT OPENS IN GRAND STYLE: GOV OKOROCHA COMMENDS PROPRIETORS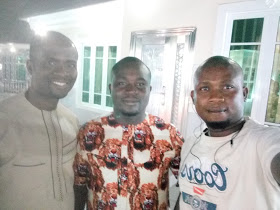 Royal Billion Hotels and Apartment has opened with a strong commitment to offering guests the highest service standards.

Strategically located in a serene sumptuous environment in the heart of Nigeria\'s Imo State capital city of Owerri.  Royal Billion provides you with high quality accomodation and suite apartments in Amawire, Orji Hill, Owerri Imo State


Speaking recently at facility tour, the number two Citizen of the state, His Excellency Eze Madumere commended the operators for keying into the vision of the Rescue Mission Government.
He said \" This is inline with the call by  His Excellency Rochas Anayo Okorocha for us all to come back home and invest. We commend Chimaroke Oparaugo for this wonderful place. Chima is my brother. He has done exceptionally well and I am proud of him\"
The following dignitaries were at the facility tour:  His Excellency Prince Ezemadumere,Deputy gov of Imo State,
 His Excellency Chief Ikedi Ohakim,formal gov of Imo State
Hon Henry Nwawuba,member Mbaike fed House of Rep , Chief Capt D.C Mbamara, Comr Ikechukwu Anyanwu – Publisher Arise Africa Magazine (5) Hon Emma Orie,Member Ohaji-Egbema State House of Assembly (6) Hon Ambassador Uche Ogbuagu (7) Hon Iyke Okigboanawa,Imo My Pride (8) Chief Cona  Anosike (9) High Chief Dr Ejike Okehi (10) HRH Eze Dr Innocent Opara,Eze Ugo 11 of Orji (11) HRH Eze Eronnin of Awo Mbieri (12) Bar Demian Alil, a  Chieftain of APC in Ohaji Egbema (13) Bar Chigozie Iheama (14) Pastor & Mrs Chuks Umealo (15) Mr Stanley,of PCRC Owerri & others (16) Nze Njoku Obi of Imo University Owerri (17) WAEC Owerri Branch Representative (18) Zenith Bank Representative (19) Ecobank Representative (20) UBA Bank Representative (21) Imo Poly Representative (22) Lady Margate Oparaugo (23) Chief Uche Mbah S.A to Imo Deputy Gov (24) Mr Emeka Olumba,Zinny Garden Owerri & Others (25) Chief Engr Ibe (26) Mr Iwuagwu Jude,PRO  SACA (27) Mrs Chinyere Amaechi of Ministry of Agriculture Owerri (28) Ministry of Gender Affairs Owerri.Representive (29) Director of Nigerian Eye Newspaper.(30) Comr Wilson (31) Mr Ugochukwu Okah (32) Bro Emma Duru of Rockview  Lagos.(33) Mrs Eunice O Onwuegbu (34) CEO Hair Forest and (35) Chief Denis Okwu (Sweet Apple)
Royal Billion  rooms are exquisitely, lavishly and elegantly furnished.
Royal Billion Hotel is at the top with a unique concept in the world of hospitality.
Royal Billion offers consistent value for money in a serene and beautiful atmosphere. It\'s first in its class. There ie never anything like it..
Royal Billion Hotels & Apartments features the following:
1. An upscale Resturant, bar,
2. Free Wi-fi for your Internet services
3. Gymnasium: Our guests feel rejuvenated after a workout in the fitness facilities open for 24 hours.
4. Newspaper: to keep you updated
5.Free Car services at the airport to convet our guests to and our of the hotel
6.Free Security excort servicee, to see our guest to and out of the hotel.
7. We have 24 hr receptionist to make your stay as comfortable as possible.
8. Farmers and Laundry.
9. Every suite features a fully equipped kitchen, refrigerator, microwave, toaster, glassware, cutlery and crockert providing guests with the choice of in-suite dining
10. Direct dial from the room and numerous satellite channels
11. P .O.S services also available.
12. 24 Hour Electricity
Royal Billion hotel is rated the best Home service apartment in Nigeria with its standard, neat, calm, security, and Unique design.
IT\'S NOT A HOTEL,
IT\'\'S A WAY OF LIFE
THIS IS ANOTHER HOME, AWAY FROM HOME
Location @ Amawire Orji Okigwe Rd Owerri Imo State