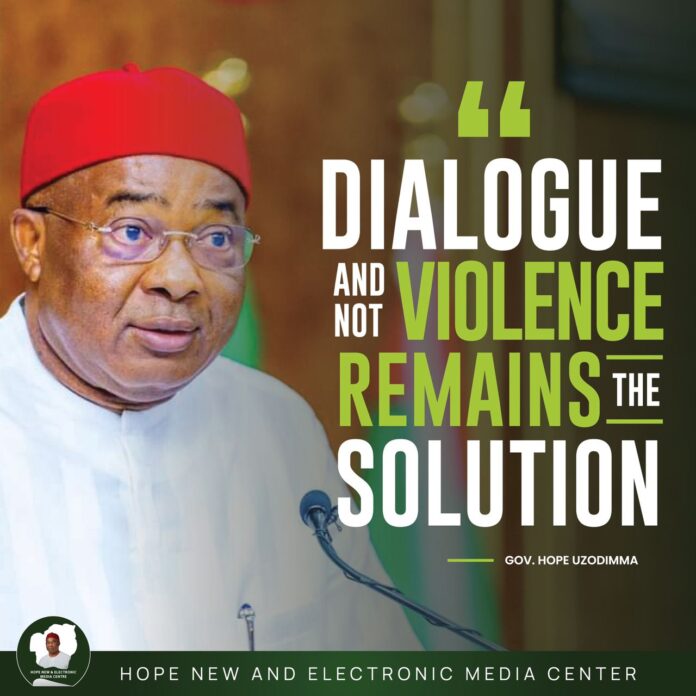 …OTHER IGBO LEADERS HONOUR THE PRESIDENT-GENERAL OF OHANAEZE NDI IGBO, PROF. GEORGE OBIOZOR
His Excellency, Distinguished Senator Hope Uzodimma together with a host of Igbo leaders gathered in solidarity for the President-General of Ohanaeze Ndi Igbo, Professor George Obiozor whose country home was set ablaze.
Governor Uzodimma at the solidarity banquet held in honour of the President-General, condemned the destructive acts and killings by brothers against brothers, stressing that the destructive approach of sending a message is not Igbo.
The Governor maintained the Gospel of "dialogue and not violence" as the means to the desired destination of Ndi Igbo. He further stressed that self destruction and violence has never made any race great but can be likened to a man who urinates into a well he drinks from.
Governor Uzodimma called on all well meaning Igbo leaders and youths to "think together, plan together and pursue the cause of justice for Igbos in Nigeria. He also called on all the kingmakers and patriots of the country to help wipe the historical tears of the South East.
"Igbos are Pan Nigeria, the huge investments of Igbos in all the States in Nigeria even in the far North shows a people that have an unwavering faith in this Nation. All what Igbos seek is justice, equity and fairness" – Gov. Uzodimma stated.